Rosaces Effect Plugin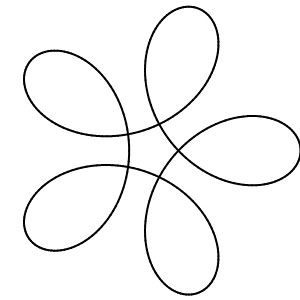 What's this?
This plugin is added to the menu Effects, submenu Render.
You could create multiple kind of Roses (Rosaces in French).
Wiki link:
http://en.wikipedia....e_(mathematics)
I found the formulas here (French)
http://www.mathcurve...otrochoid.shtml
This is where I got the Q,A,K factors...
Download it!
Plugin
Rosaces.dll

Here is the DLL

The source is available with the plugins package!
http://forums.getpai...?showtopic=7186
How to install
Close Paint.net
Unzip and (re)place the DLL in your Effect folder usually: C:/Program Files/Paint.NET/Effects
The User interface
Q factor:
the curve will be rose shaped with
.. 2 x Q petals if Q is even, and
.. 1 x Q petals if Q is odd.
if Q > 0 the petals are outside
if Q < 0 the petals are inside
With Q=2 you obtain an ellipse.
A factor:
A is the radius of the base circle and it is useless if the option 'Fit the image..' is checked.
Uncheck the option 'Fit the image..' and choose the size with this slider.
K factor:
K plays on the distance from the center to the inner curves. If you increase this value, you could have a kind of ring.
Special values:
K = 1 : No petal, just pikes.
K = Q - 1 : you have a rose (each curve goes through the center)
Quantity of vertex:
You set here how many points should draw the curves.
Steps:
You could increase the step of the points to link together.
Angle:
You could rotate the figure to draw.
Color:
The primary color is the default color (the first time). You could choose another color...
Variable color:
New!
Each line uses a different color. It increases the process time!
0 for fixed color (for the color wheel), 1 or > to set the number of cycle...
Transparency:
...and another level of transparency.
Brush width:
Set the width of the lines to draw.
Fit the image size:
As all the points are pre-calculated, you could choose to reduce/enlarge to make the figure fit the image.
The scale is the same for vertical and horizontal.
Anti-Aliasing:
As it says!
Some tips:
Set the brush width to 1 and the transparency to 30.
Try the steps = 1/2 Quantity of vertex - 1
Some examples:
(Click on the small images to see the settings)