Seamless Texture

Maker

Effect Plugin
What's this?
Based on the original code from Boltbait for his Seamless Texture
helper
:
This plugin is added to the menu Effects, submenu Distort.
Download the DLL
Plugin
SeamlessTextureMaker.dll

Here is the DLL

The source is available with the plugins package!
http://forums.getpai...?showtopic=7186
How to install?
Close Paint.net
Unzip and place the DLL in your Effect folder usually: C:/Program Files/Paint.NET/Effects
The User interface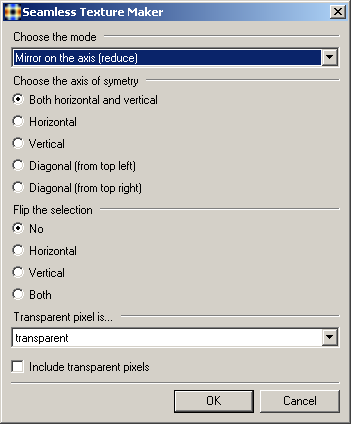 Choose the mode:
...Mirror on the axis (reduce): the image is duplicated and flipped.
...Copy and rotate (reduce): the image is duplicated and rotated.
...Normal+Cut: The image is duplicate and panelled half size and then blended with the original.
...Cut: The image is panelled half size. The center is going to the corners.
Choose the axis of symetry:
...You could decide to apply the effect on the proposed axis.
Flip the selection:
...With the mirror this option allows you to place the reduced image in a different order.
...With other modes, the duplicated image is flipped before the blending.
Transparent pixel is:
...transparent
...replaced by Black color
...replaced by White color
...replaced by Primary color
...replaced by Secondary color
...as original image
If there are some transparent pixel, you could choose to replace them...
Include transparent pixels
...The blend mode selected applies also to the alpha channel.
The Examples:
Image:
Mode Mirror
Mode Lighten
Mode Average
Mode Darken