Perlin Texture Plugin
What's this?
This plugin is added to the menu Effects, submenu Texture.
It applies a formula based on the perlin noise. You could use it to create a texture and/or to distort a image.
Download the DLL
Plugin
PerlinTexture.dll

Here is the DLL

Created with CodeLab...
The source is available with the plugins package!
http://forums.getpai...?showtopic=7186
How to install?
Close Paint.net
Unzip and place the DLL in your Effect folder usually: C:/Program Files/Paint.NET/Effects
The User interface
...As I'm French Technician (not a English/US scientist), how to explain that in english...
I've just managed to apply a User interface to a formula I've found on a forum, without analysing how it works really...
Alpha/Beta/Harmonics level:
The sum of harmonics:
Alpha: factor of attenuation for the next frequency, the more we decrease it the more the function is noisy.
Beta: spacing.
n = number of harmonics.
Reseed:
Change this value to run the effect with another random reference, 0 is always new random...
Mode:
Choose between Rainbow / Grey / Distort
Rainbow / Grey will create a texture colored or black & white.
Distort will affect the existing picture.
Range:
This is the color range value.
Mode Rainbow /Grey : lower = dark, higher = colorful.
Mode Distort : lower = few distortion, higher = lot of distortion.
Angle:
As the formula uses Sinus/Cosinus, you could affect the angle in the formula...
Orientation:
Normal / Switched Change the orientation of the formula as like as portrait/landscape for a piece of paper.
Scale:
Used to enlarge/reduce the result.
Effect Mix:
This is a slider to mix the final image with the orignal image to make the effect more or less subtile.
Some examples:
Settings: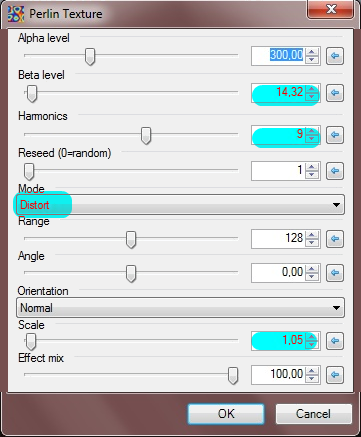 Model / Result
Settings:
Model / Result