Tube Effect
(or oblique cylinder?)
What's this?
Photo sample from:
http://www.photo-libre.fr
This is a distort effect plugin. It allows you to distort the image as if you put in on a cylinder...
While moving, if the image leaves the area on a side it will reappear on the other.
In fact it was originally 99% made with CodeLab...(1% for external text editor, and for the icon).
Download the DLL
Plugin
TubeOblique.dll

Here is the DLL

The source is available with the plugins package!
http://forums.getpai...?showtopic=7186
How to install?
Close Paint.net
Unzip and place the DLL in your Effect folder usually: C:/Program Files/Paint.NET/Effects
The User interface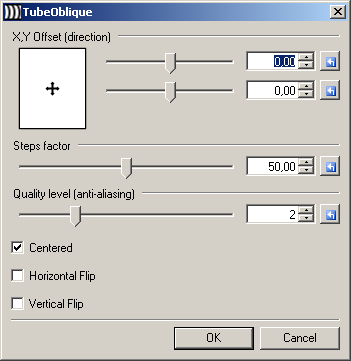 X,Y Offset (direction):
...you could choose the direction of the distortion.
Steps factor:
...you could increase the effect of distortion.
Quality:
...increasing the quality is slowering the rendering a bit, and should reduce the pixelisation.
Options:
_ Centered: if checked the borders are moving and the middle of the image is stable.
_ Horizontal flip: if checked the upper part moves in opposite way than the lower part, like a S or Z.
_ Vertical flip: if checked the right part moves in opposite way than the left part, like ~.
Examples:
Attention, need surounding but not everywhere!
Let's test with this simple image. Let's say the blue rectangle is the subject.
In this example the subject is in the middle of the area. The effect takes the full width of the selection and so the subject is moved down:
For a better result (depending on what you are looking for!) you shoud cut/paste in a new image for the time to apply the effect.
Take away left/right margin and leave up/low transparent (for a vertical effect).
Then the effect is fully applied on the subject, most left and most right pixels don't move (or just 1-2 px).
Advanced Example
To make the 'glass' on the first picture:
I've set the background color to transparent.
I've resized the canvas only verticaly.
I mean the picture was (for example) 160x120 I enlarge the canvas to 160x300.
Be sure :
- there is no transparent border on left/right to have a nice tube effect.
- upper/lower borders are transparent...
Then I've duplicated the image.
And Applied Tube V:+0.60 steps 100 not centered, on the top layer
And Applied Tube V:-0.60 steps 100 not centered, on the second layer
And some other effects (shadow, glow, ..), I forgot to use the feather...
Please test it and give your comments...