Mayor McSteeze here proud to present to you the Storm/Vortex Abstract tutorial!
Off Topic Bit:
100th Post edition.
Heres a preview of what we will be making today.
Before we begin, Heres a list of plugins you will need, None!
Lets Get Ready To Rumble! [/boxing announcer]
But seriously, lets get started.
Step 1
: Create a new canvas
(size is up to you, I chose 600X600 because i find it rather attractive)
Step2:
Set your Primary color to White and Secondary to Black.
Draw a Radial Gradient
Like so.
It can be however big or small you fancy it to be.
Step3:
Go to Adjustments -> Curves :Curves: (or Curves+ doesnt matter) And set your luminosity Like show below.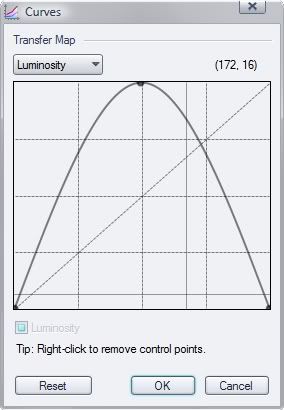 (image provided courtesy of
AGJM
)
(dont mess with this step, it needs to stay the same for the outcome to look right.)
Step 4:
Sharpen :Sharpen: the image at full settings.
Step 5:
Run Clouds :Clouds: (Effects -> Render -> Clouds) With a low Scale and roughness around .55-.7 and Blend Mode Set to Color Burn.
Step 6:
Duplicate
the current layer.
Step 7:
On the Top Layer, Run a :ZoomBlur: Zoom Blur (Effects -> Blurs -> Zoom Blur) in the center of the vortex with zoom amount set around 80-100.
Step 8:
Set the top layers Blend Mode :Properties: to Negation.
Step 9:
Merge :MergeDown: The Two Layers Down.
Step 10:
Color your layer with Color Tint, Color Balance Or Just Plain Old :Curves: Curves.
Choose What ever colors you think will look best.
(I Chose a Dark Blue but its up to you.)
Make it as Fruity as you want.
Step 11
: (
Im losing track
)
Duplicate :EditCopy: the current layer so you will have 2, count em' 2 layers.
Step 12:
(This Step is optional, but i think it adds a nice touch.)
Run Smudge On the Top Most layer, (Effects -> Distort -> Smudge) And Smudge in the area's shown below in the intricate diagram.
Remember, It's optional.
Step 13:
On the top layer, run twist (Effects -> Distort -> Twist) With the settings seen below.
Step 14:
Now, switch to the
Bottom Layer
and run Twist again with these settings. (Pay attention to the twist amount!)
Step 15:
Almost done, Set the Top Layers Blend Mode :Properties: to Lighten.
Grats, Your all done!
Here is the result from making this tutorial:
Another Outcome:
I Hope you enjoyed this tutorial almost as much as i enjoyed making it ( Which was [url=http://hyperboleandahalf.blogspot.com/2010/04/alot-is-better-than-you-at-everything.html]alot[/url], per say.)
Feel Free to leave comments and post your creations as well.
-Mayor McSteeze
Edited by Ego Eram Reputo, 28 April 2012 - 05:36 AM.
Fixed bad icon