Hey there, this is my first tutorial so bare with me! let me know
of any mistakes or how terrible it is!
so lets begin!
---------------------------------------
firstly find a land texture that you are going to use as your base. This could be cracked earth,
lumpy terrain, ect.... for the basis of this tutorial i will be using this texture found via google:
ok start off by opening paint.net to a 800x600 canvas. open a new layer and put your basic
texture on to it. As you may notice, it may be too small. BUT thats ok. Just copy and paste
untill the whole canvas is filled up. you should have something like this:
As you can see from mine there are plenty of seams. But dont worry about fixing this up,
it will be a waste of time as they dont become noticable later on.
next create a new layer and fill this in green (not a bright green). Set the layer opacity between
85 - 90% ( i used 80) what this does is it gives a green tint to the texture. We are trying to
create an "earth like planet texture" so some green is needed. You should have something lik this:
Thats the easy part over and done with! Next wee are going to add water to our planet texture.
creat a new layer and call this "water". Now with the paintbrush tool, select a meduim blue colour
and begin outlining your oceans and lakes. For rivers i reconmend using a brush width between 1 and 4
pixels. Eventually you should have something like this:
Now create a new layer and call it "deep water". The idea here is to select a darker shade of blue and then
paint, in the middle of your large water areas (lakes and oceans) to create the sense of deep water. Keep
away from the shore line! You will see why in a second.
Once you have your deep water areas, apply a fragment blur with the settings: count 4, distance 8.
after this, apply an average blur of a strength between 8 and 10 ( i normally use 10). You should have something like this:
We now have deep water, yay! But we need a shore line. So create a new layer and call this "shore water". Take the
paintbrush tool with a pixel width of between 6 - 8 and map out your shorline, following the origonal shape of your water.
What your aiming for is to put the shoreline at the edge of your water. Once you have finished add a fragment blur of 4, 8 again and then add an average blur of 10.
you should have something like this:
Now we want to add some climate to the texture, not much though. Create a new layer and call this "yellow". On this layer
create a yellow eclipse accross the centre of your texture, keeping well away from the top and bottom edges. Erase any pats that go over any water (including rivers). you should have something like this: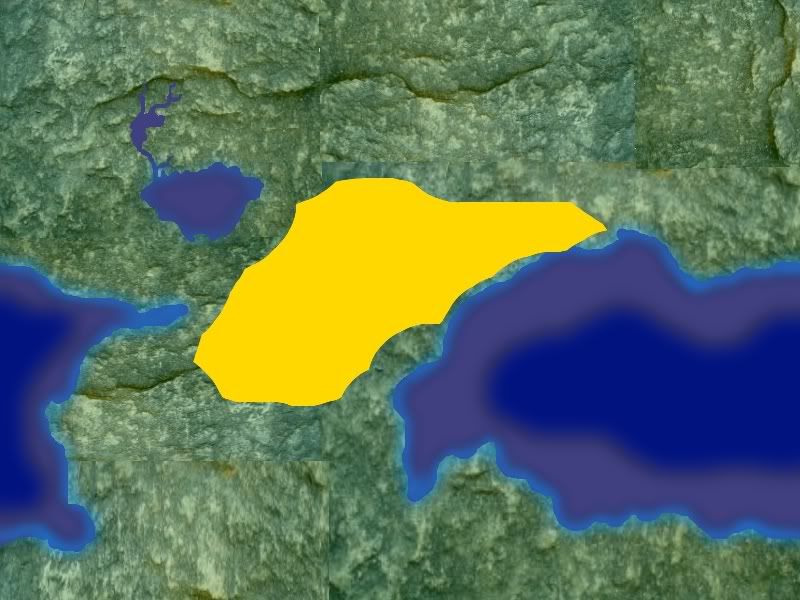 But what a mess! open up the "yellow" layers properties and change the blend mod to overlay. Next change the opacity to 35. The yellow blob becomes almost invisible, but yet adds a strange sense of climate to the picture:
Now lets create some atmosphere! Create a new layer and call this "clouds". Change your prmary colour to black with a transparancy of 0. Have your secondary colour as white. Now go to effect -> render -> clouds. You can play with the cloud settings but i find these to be good ones: Scale 535, roughness 0.65.
you should have something like this: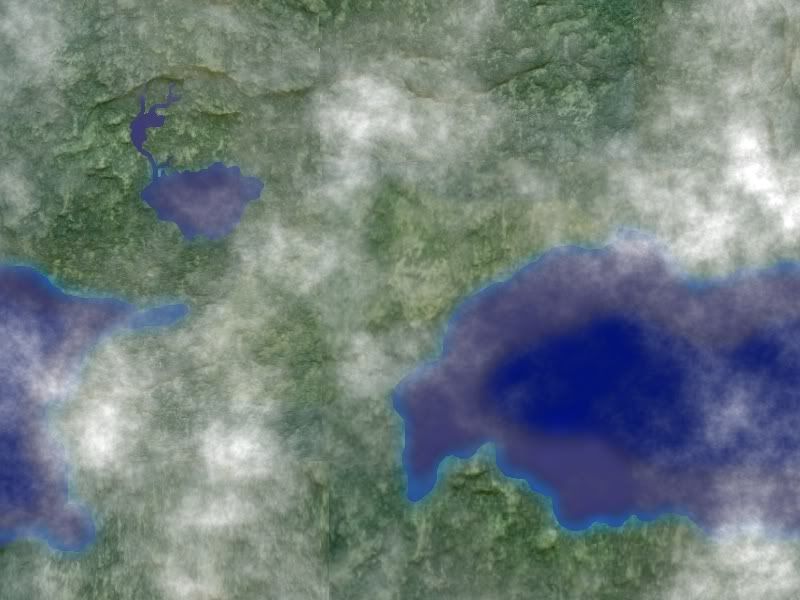 ....and your done! All finished, you now have an "earth like texture" for your planet
Of course dont stop there! You could try adding in some icecaps:
So what can you do with this texture? create a planet of course!
Heres my finished planet:
Feel free to post your attempts, i hope the tutorial was easy to follow and to understand
=MA=