This is new family of "Text Fomations"
After i created Spiral Text , I asked myself "How another Madjick's plugin-sin curves ?"
yes , this plugin writes the character in the sin curve.
Menu > Effects > Text Formations > Wave Text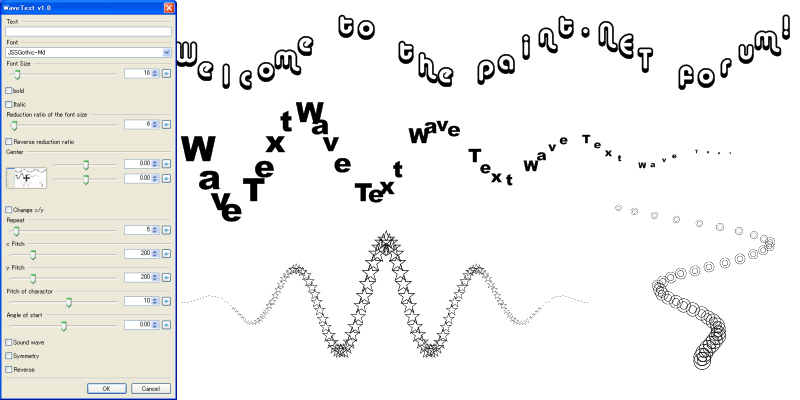 UI
this is Full size UI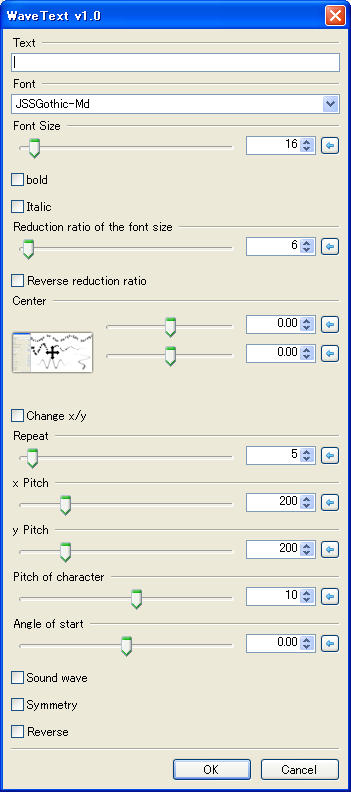 This UI is so long.
size is 351x792 .
I'd like to compact it , but I can not create UI myself without CodeLab.
If your display size is 1024x768 , please use short size UI.
Short size UI is except "bold" and "Italic" ,
size is 351x738I prepare two dll files
Choice Full size UI or Short size UI.How to use
It looks like Spiral Text well.
It is very easy though there are a lot of adjustments.
I explain only the thing which you are hard to understand.
( It is because of my strange english naming...).
change x/y
This exchanges x for the value of y and changes the horizontal wave into the vertical .
Picth of charactor
The pitch of the character has been decided only in the direction of x.
Angle of start
It means the start angle of the sine curve.
If it is 90, it starts from the top of the wave.
However, it is not accurate. It shifts a little. I think that there is a mistake in the program.
Sound wave
It raise a wave or lower it or the both.
I was not able to take a just name.
Symmetry
This is a lie, too.
You must adjust the start of the angle to make it symmetry precisely.
Reverse
this is correct.
anywawy enjoy!
Download
Edited by dpy, 06 April 2010 - 01:50 PM.