If are looking for a bit of light drawing, try these bubbles. (level fairly easy)
Plugins used
Madjik's plugin pack (Nebulous, Random lines)
viewtopic.php?f=16&t=21592
Boltbait's plugin pack (Lomography)
viewtopic.php?f=16&t=22819
Ed Harvey's plugin pack (Insideout, Lens)
viewtopic.php?f=16&t=26244
pyrochild's plugin pack (Smudge, Random Shape fill)
viewtopic.php?f=16&t=21706
Step 1
Open new file, (800 x 600 fine) and colour background black.
Step 2
create the basic design
In a new layer, fill with
effects-texture-nebulous
Settings at or near default positions
Step 3
Personalise your bubble with bright random graphics.
Here are some ideas
effects-render-random lines
, 25 lines, thickness max 4, min 1,
Random Colours, random alpha chanel, clamp lines to boarder, anti aliasing.
effects-render-random shape fill
, circles, Number 30, max size 30, min size 6,
RGB, use transparency, antialias
effects-distort-smudge
, use four or five bold strokes
You should now have something like this.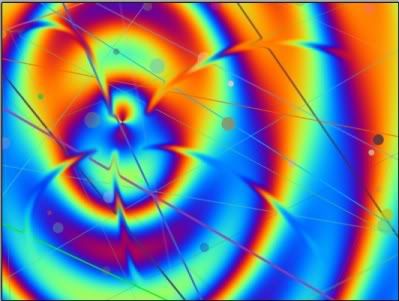 Step 4
Create the bubble
effect-photo-lomography
, exposure about -10
effect-distort-insideout
effect-distort-lens
, setting about 9 but adjust for each bubble (gives a more 3d look).
This is the basic bubble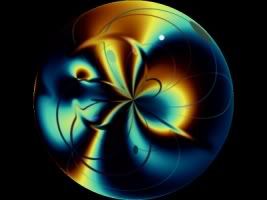 Step 5
Create some highlights.
select the bubble (
transparent area then ctrl I to invert selection)
create new layer
using white brush, size about 20, draw a half moon top, smaller half moon bottom
effect-blurs-Gausian blur
, radius 50
adjust layer opacity to approx 150 (layers menu :Properties: )
deselect bubble and you are finished.