My Awesome TUT!!!

needed:
shape3D
crystalize
dent
we will make
1. make a layer 800 X 600
2. pick two colors (i used black and red)
3. fill it in with the bucket tool using narrow horizontal
4. turn into sphere with shape3D (don't change any options)
5.then crystalize the sphere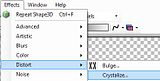 size: 10
randomness: 70
shape: platelet
Quality: 2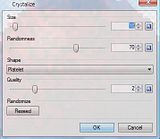 6. then use dent on the sphere.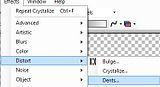 Viola! there you go!!
thank you for looking, by the way if i made any mistakes forgive me, this is my first post on PDN.
I realize that this might be better suited for the newbie section feel free to move it
edit: i didn't see this 'till after i posted this but here
http://dewdsnews.fre...b-tut-vt54.html
is another tut, since it's on another fourum i hope mine is not bad