ever since I saw barkbark00's chrome text (
http://forums.getpai...ic-chrome-text/
), I have been looking for ways to make it less tedious. Here are my results. It's my first time making a tutorial, so don't kill me for it.
You will need the following plugins:
Bevel
Feather
You can get both of them here.
http://forums.getpai...page__hl__bevel
:PaintBucketTool: 1. Use the paint bucket to fill the whole image with black. This is only to make it easier to see what you are doing. You can delete the layer when you are done.
2. Add a new layer.
3. Type in your text on the new layer. Make sure you made the text white and make the size around 108. You can use any font you want. Rounded fonts are preferable.
it should look sort of like this: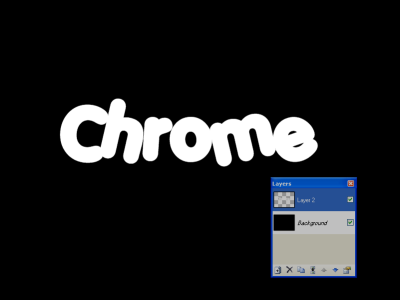 4. Select the area around the text using the magic wand tool set on 0% tolerance and make the flood mode global :Link: .
5. invert selection (ctrl+i)
6. Bevel selection. Change up the properties so that the text appears rounded. (sorry about my poor descriptions)
it should look sort of like this: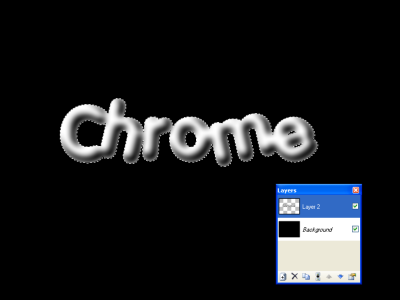 7. Duplicate the layer
:InvertColors: 8. Invert colors
:Properties: 9. Make the layer blend mode "Difference"
it should look sort of like this: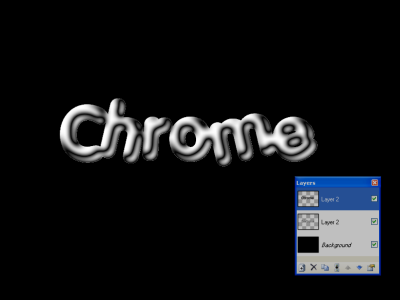 :MergeDown: 10. Merge layer down
:Curves: 11. Adjust the luminosity. It doesn't necessarily have to be exactly the way I did it.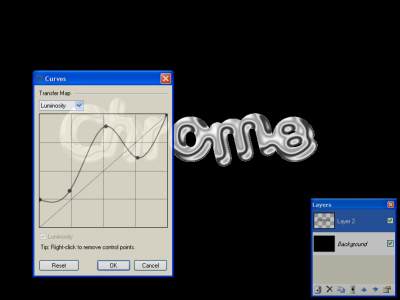 12. Feather the text layer
If you want, you can delete the black layer.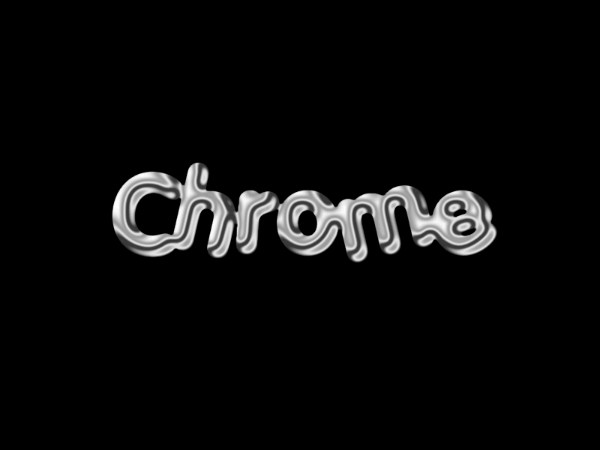 Show your results!
EDIT: When you use the feather tool, make sure you set it on "true feather" (or "shrink" if you don't have the same version as me)
EDIT: Melting chrome text
I tried to make this in a new topic, but it got locked. david.atwell told me I could add it to this tutorial, so here it is!
1. You'll need some text to melt, so go make some...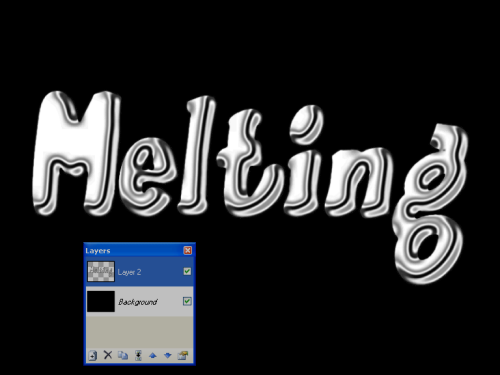 :Delete: 2. When you are done making your text, select and delete to places that have already melted away.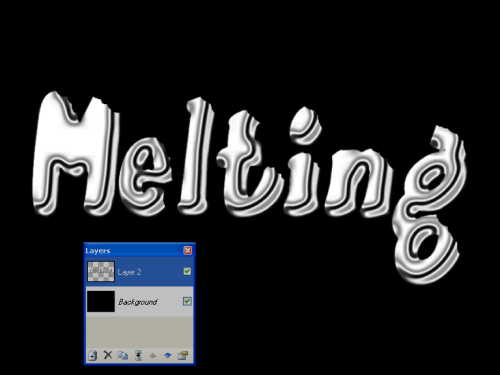 :Unfocus: 3. The edges are a little sharp, so select them and use "unfocus" to fix it up.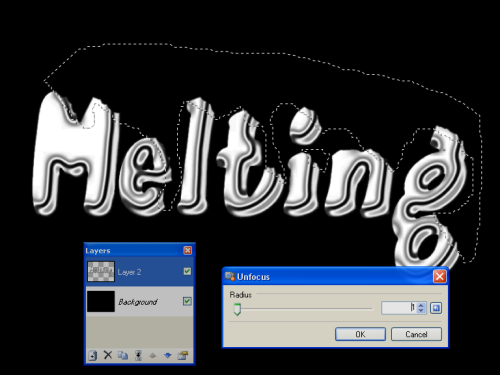 :Properties: 4. Add a new layer and set the layer properties to "Difference"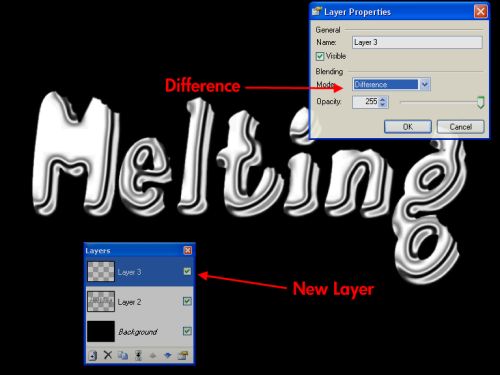 :EditCopy: 5. Go back to the layer with the text and select some pieces of your text and copy them (ctrl+c)
6. Paste the pieces on your blank layer from step 4 Sometimes, you have to invert the colors of the piece you are pasting so that you don't end up with a funny looking part (A field of white will turn black if you put a white piece on it, so you invert the colors to keep that part white.)
7. Move the pieces to the places where you cut off some stuff in step 2.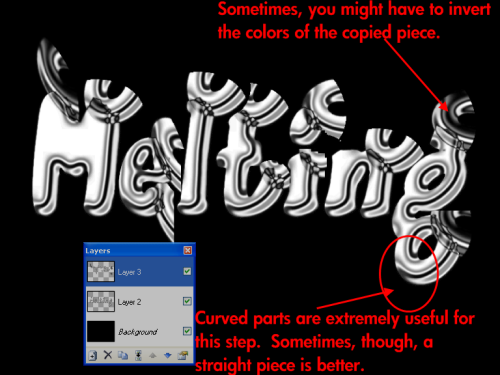 8. Blur the things a little using unfocus...only a little.
9. Go to your text layer and, using the magic wand tool, select everything that isn't text. Make sure the tolerance is set to 0%
:Delete: 10. Go to the other layer and delete everything in the selection.
:Unfocus: 11. Use unfocus to fix the edges (not too much).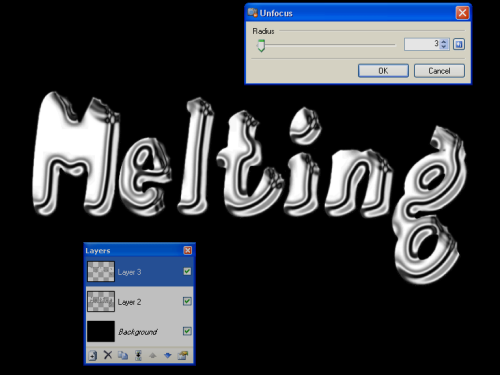 Hopefully, it looks right and you can flatten the image. If it doesn't look the way it should, do some of your own modifications. If you did it right, it should look better than this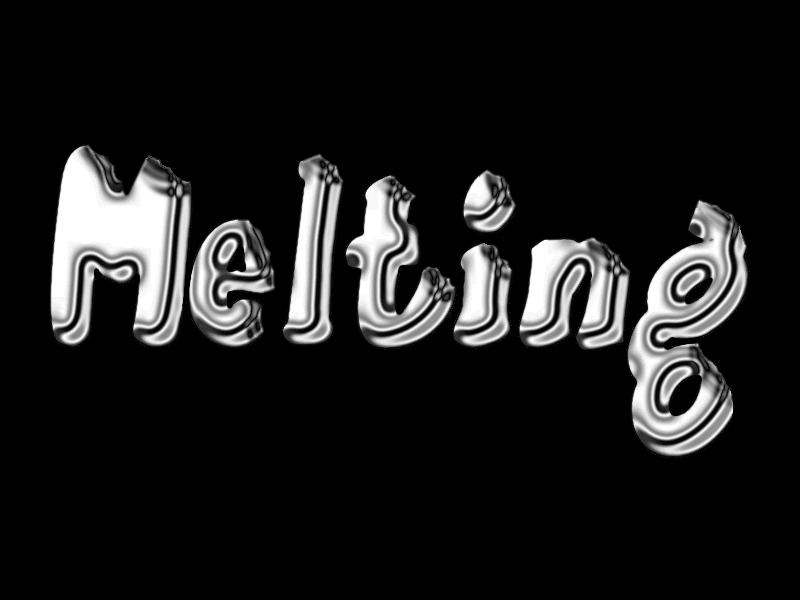 Show your results...and feel free to give suggestions!
Edited by pdnnoob, 23 October 2010 - 06:16 PM.