This tutorial will show you how to create a filmstrip style frame for your pictures.
Posted in reposponse to this request:
http://paintdotnet.1...pic.php?p=39215
You will need to download and install the
Tube Oblique
plugin to complete this tutorial.
This strip will be setup to contain images in a 4:3 aspect ratio.
Start with a canvas size of 420w x 440h. Set your Primary colour to Black and fill the canvas.
EFFECTS > Add Noise: Intensity 64 (default), Colour Saturation 0.
EFFECTS > Blurs > Unfocus at 50px
ADJUSTMENTS > Sepia. This will give your 'filmstrip' a nice brownish camera film type of colour.
Using the Rectangle Select tool, draw a rectangle area that is 420px wide and 30px high, positioned 25px from the top of the canvas.
You can draw a base rectangle and use the Move Selection tool to resize and reposition. Use the information in the bottom right of the screen to get the correct size and position.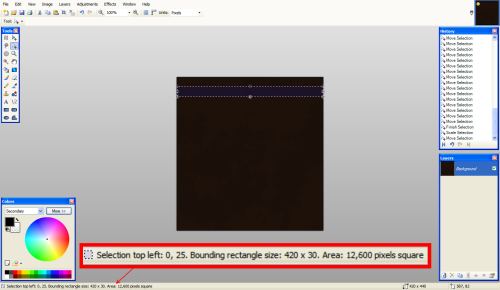 Create a new layer (CTRL+SHIFT+N).
Choose the Line/Curve tool, set Primary Colour to White, Secondary Colour to Black.
Set your Brush Width at 30 and your line style to Dotted.
Starting inside the left of your selected area, left-click and draw a line from left to right.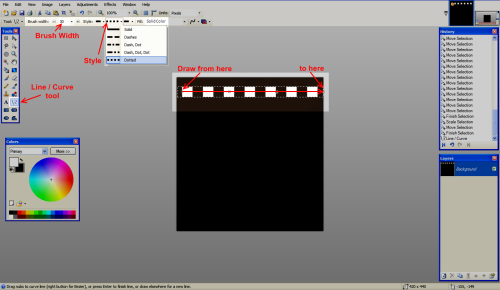 Now, with the dotted line still selected press CTRL+C to copy and CTRL+V to paste. By default the Move Selected Pixels tool will have been selected, so use the mouse to click and drag this selection to the bottom of the strip, make sure that it is offset 25px from the bottom.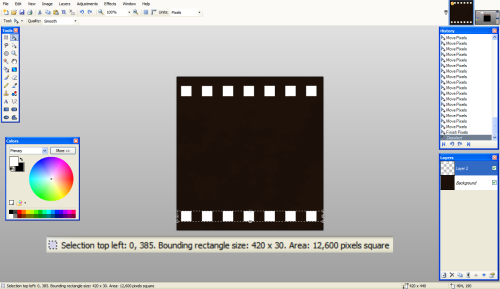 Press CTRL+D to deselect and, EFFECTS > NOISE > Median: Radius 5, Percentile 50.
Use the rectangle select tool again and draw a rectangle that is 400 x 300 pixels, positioned 10,70 from the top left. Fill this rectangle white.
Select the Magic Wand tool and set the tolerance at 0%
Hold the SHIFT button and click in the main white area; this will highlight all the white areas.
Go to the Background layer and press Delete. You can now delete later 2.
Use the Rectangle Select tool and, holt the SHIFT key to draw a square about 100 x 100 pixels. Choose the Move Selection tool and, right-click to rotate the square to 45 degrees. Move the selected square to the bottom right of your canvas so that it is only covering a small potion in the corner measuring 20 x 20.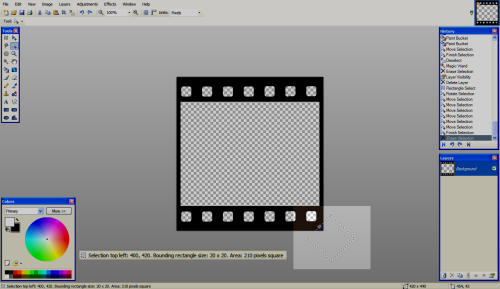 Press the Delete key to get rid of this corner. Repeat this process on the opposite corner.
Now, you need to decide how many frames are going to be in your film strip. I am going to do five here.
Set the Alpha Transparency of your Secondary Colour to 0 (zero). Then select IMAGE > Canvas Size.
Untick, Maintain Aspect Ratio and make sure the Anchor is set to Left.
You need to adjust the size of your canvas width depending on how many frames you want. I am using 5 frames, so I am changing the width of the canvas to 2100 (420x5).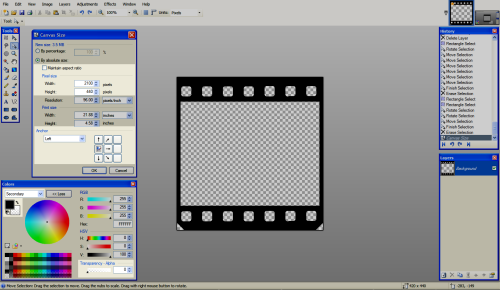 Zoom out to 50% so you can see all the canvas. Now, use the Magic Wand tool again and, holding the SHIFT key click anywhere in transparent area, then press CTRL+I to invert selection.
Press CTRL+C to copy and CTRL+V to paste. Use the Move Selected pixels tool to move the selection to the right and position it.
Press CTRL+V again to paste another copy and move this into position. Repeat this another two times until the canvas is filled.
You'll need to have your filmstrip images prepared, cropped and resized to 400 x 300px.
Open each in a new image within PDN.
Go to your first image and press CTRL+A to select all and CTRL+C to copy.
Go back to your Filmstrip image and press CTRL+V to paste. Use the mouse and the arrow keys to position within the image window.
Repeat this by selecting your images one-by-one and copying them then returning to your filmstrip and pasting and positioning.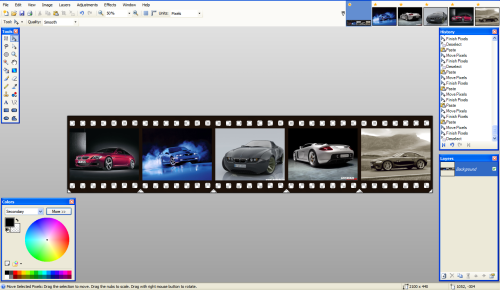 Press F4 to access the Layer Properties and set the Opacity at 230 (this will make your filmstrip slightly transparent) - this is optional.
Now, press CTRL+SHIFT+R to access the Canvas Size and, this time changing the Anchor to Bottom, change the canvas size to 2400 x 1200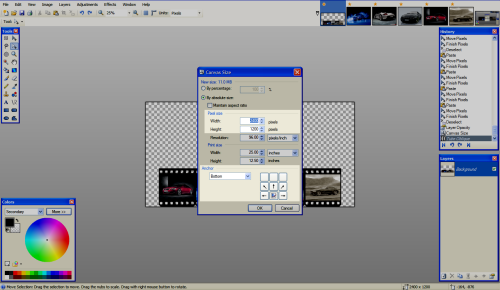 EFFECTS > Distort > Tube Oblique: Horizontal 0, Vertical anything from 20 - 50, whichever suits best for your purpose.
You can now resize and or rotate your image to suit. Try producing multiple strips with different curvatures using the Tube Oblique effect and adjoin them to make a longer curved strip.
You can also add a Drop Shadow for effect - you will need the
Drop Shadow
plugin.