The goal of this tutorial is to recreate the Classic Camaro image that is on the front page of
http://www.getpaint.net
. The idea came about to have a classic Camaro and mix in some simple, modern imaging effects so that the image fades from a "classic" look on the left, to an exaggerated modern look on the right.
So we'll be taking this: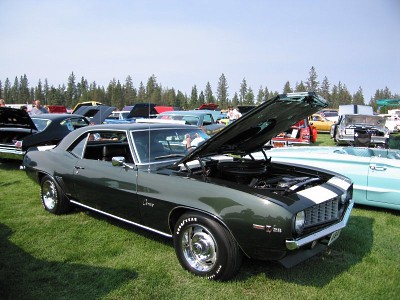 and turning it in to this: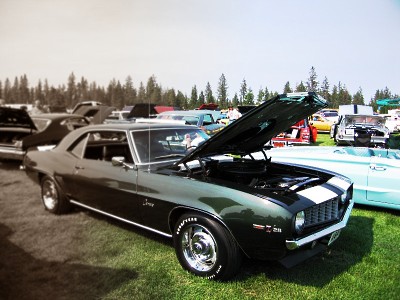 Step 1.
Download http://www.deviantart.com/deviation/43974184/ )
Step 2.
Open it in Paint.NET v3.0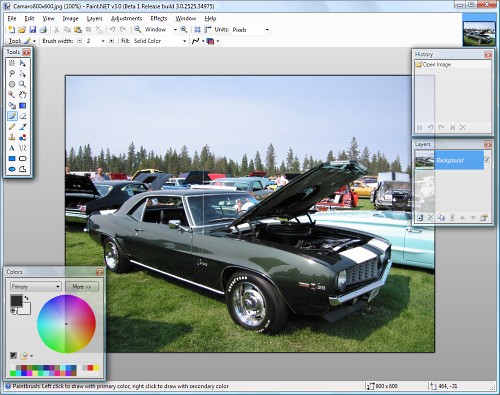 Step 3.
Duplicate the background layer (Layers -> Duplicate) and then apply the Sepia adjustment to this new layer (Adjustments -> Sepia)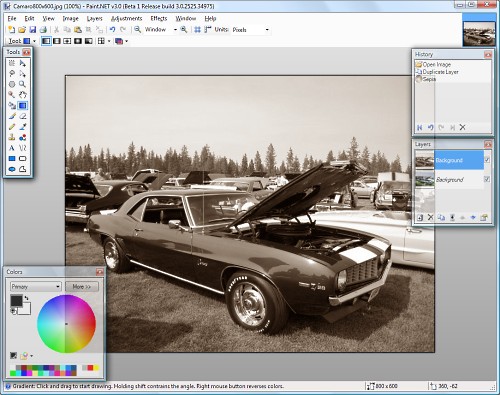 Step 4.
Apply a blur to this layer (Effects -> Blurs -> Gaussian Blur). I used a 2 pixel radius for this.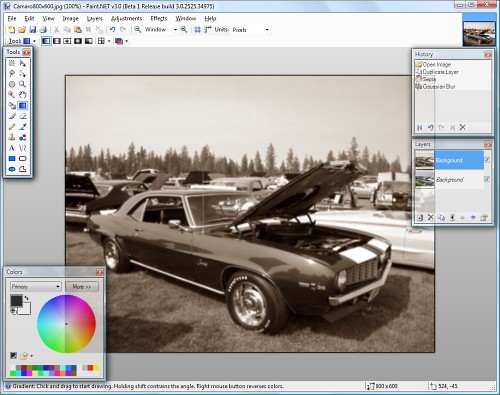 Step 5.
Switch to the Gradient tool, and make sure it is set to:
Linear
gradient,
Transparency Mode
, and
Normal Blending
. These options are in the toolbar right below the buttons for quick actions like New, Open, Save, and Print.
Next, draw a gradient from the rear window of the car to somewhere closer to the front of the car. Because this image is small and the nubs are very difficult to see, I have drawn a
green line
to indicate where I have placed the two nubs of the gradient tool. In practice, drawing with the gradient tool is in fact much like drawing a line except that you don't get to see the line: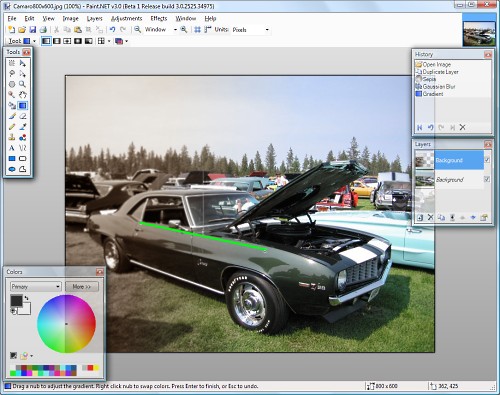 Well that looks cool. To get a better feel for what you have done, you can turn off the bottom layer to see what the top layer looks like: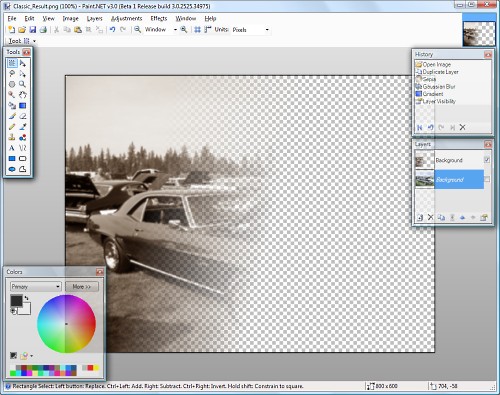 As you can see, this tutorial's effect works by
removing
portions of the top layer in order to let the bottom layer show through. I suppose it is also possible to reverse the roles of the layers (sepia on bottom, normal on top) and achieve this same effect if you drew the gradient in the opposite direction.
You should re-enable the checkbox/visibility for the bottom layer at this point, if you haven't done so already.
Step 6.
Now we want to oversaturate the original part of the image. To do this, click on the bottom layer and then duplicate it. Next, set this layer's properties to: Glow blend mode, 118 opacity. Technically you can set it to whatever opacity gives you your desired effect -- I just happened to use 118 for this example.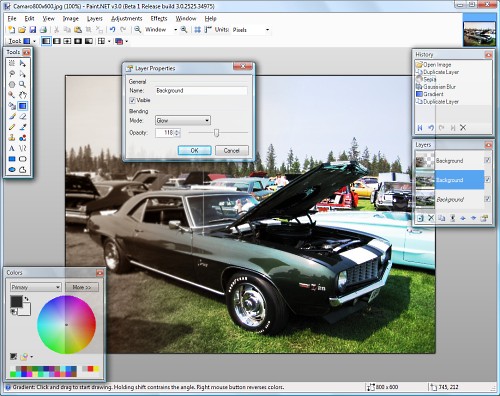 Voila. Or, as we sometimes say, Q.E.D.! There are other things you can experiment with, such as adding low-saturated noise to the sepia layer (Effects -> Add Noise) that can further refine the "classic" or noire look of that portion of the image.